Posted by
Dinky Mind
on Monday, June 20, 2005
Now, I have a proof that I know french language. Yay.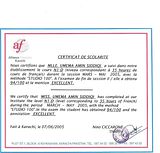 Yes, have a look at my certificate, that I got today. Signed by Nino Ciccarone, the director. Yahoo. *thanks for the applause and congratulations* *winks*.
[And now you know what does
A
. in Umema A. Siddiqi mean] *winks*
--------
Today, there was une fête de la musique (music festival) in AFK. So, after the class, when Kiran was copying down my work, I saw musical instruments coming in AFK. Sitaars, harmoniums, tablas, wahhh...So, we decided to stay and enjoy some of the performances.
As you can see in the picture above, today AFK celebrated 'International Music Day', and students of Ustads of Classical Music were invited to perform. And believe me, I have never been a great fan of classical music, but today's show was awesome. The first performer sang very well. He must be under25, but he had a fantastic voice. The second performer played awesome tabla. He must be 20 - 22 years old. His fingers on tabla were moving as if somebody has fixed a motor in his hands. Just wonderful! I loved it. Then a very young boy came and sang a ghazal. His voice, the ghazal, the tabla and sitar beat created a lovely milieu.
Tomorrow's Rock and Funk-Jazz concert. You can also join. *whispers: have a print-out of this thing. Take a 2mm thick card, and paste the printed paper on it neatly.* Hope they let you get in.* *winks*
I'm planning to go tomorrow too.
[listening to Al-Khaliq by Yusuf Islam. I love this nasheed.]
Stay cool.
Au revoir. Cheerio!