R. Nadal def. R. Federer: 6-3, 4-6, 6-4, 6-3.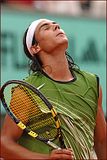 In a remarkable and inspiring birthday party,
Rafael Nadal
ran over top ranked Roger Federer in the semi-finals and fist pumped his way into the final against Mariano Puerta.
"
It's a dream for me that I could beat the No. 1 in tennis, but also the number one person,
" said Nadal.
Federer has moments in the match when he was dominating with his forehand, but in the last two sets, consistently dumped it into the net when trying to go inside out or down the line. The four-time Grand Slam champion kept his first serve percentage up high, but never dominated with it, as the quick Nadal managed to get balls back in play and win numerous points with his legs.
Moreover, Nadal's lefty spin confounded him, as the Swiss was unable to employ the normal patterns that uses against right-handers.
Federer's goal of winning the only Grand Slam title that has eluded him was shattered.
"
My disappointment is obvious
," Federer said. "
I was in the final four and with a chance to win. I was trying my best and didn't always play that well. I know I can beat him on any surface. It's a pity he beat me here. But it's tough to impose yourself in five sets on clay and especially when he's a lefty and hits with so much spin. I didn't think he played much better than me. I had the keys to beat him if I played my best. I played poorly to finish and he was consistent and solid.
"
After winning, the Spaniard got off the ground with clay caked on his back and scissor-kicked into the air.
"
If I win this tournament it'll be a dream come true
," said Nadal.
And you will win it!!!
Go Nadal, go!!!
Cheerio =)