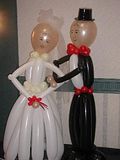 Today was supposed to be me wedding! And you see, I am sitting here, writing this post! Errrr... My groom......is not feeling well! He's suffering from high fever!
Allah sehat dey. Ameen. [Pata nahi kis baat ka bukhaar charh gaya hay].
When we were coming back to Karachi, 'he' said he'll marry. And 'he' will marry me! That was quite shocking for me, and also for rest of the people in the car! So, we planned everything out. But....something sad happnened!
Today, when I was having my class, I recieved a message. "
Salam, Hum nahi aa rahay. Shaadi postponed! Dulha beemaar hay
". This is the message sent to me by his mother at 7 pm, today! Uffff....you can't imagine my feelings at that time! At first, I didn't understand it, as my mind was tumbled into french lessons. But then, after 5 minutes, I again read it, and I burst out.....laughing/ crying! [I laugh and cry at the same time. That's my speciality]. My God!!!!! It became so hard for me to control myself! But, I had to. There were so many people around me, and I didn't want to be questioned by each and every one of them. So, I tried to keep my feelings to myself!
Here's the
picture!
of Mr. Grrrrrooom! His name is ....well you know him, don't you?
Now, let me tell you the details. My dowry, as suggested by BiYA and groom's mother, includes million packets of Top Pops, lolly pops, Prince biscuits, loadsa football-shaped chocolates, 4ever candies, and everything that Talal likes! Furthermore, there will be CDs and video cassettes of Scooby Doo, Flintstones, Tom & Jerry, powerpuff Girls, and Popeye, the sailor man- poo poo, and all other cartoons that Talal likes!
Wedding dinner was to include Maaza Mango juice, Slanty chips, and Super Crisps (and every thing that Talal and I like)
Daily, it will be my duty to sing to him the Flinstones OST, and in return, he'd be liable to sing "Aik do das" to me! "Aik do das" is a poem that I like the most, in his voice! It goes like:
"Aik do das, upar say giri bus,
Bus kay neechay kaila,
maamu jee ka mela,
Melay main jaingay,
Ghora sajain' gey.
Ghoray ki taang tooti,
Marham lagain gay,
Marham per makhi baithi...."
and it goes on!
I have memorised this whole poem, but I won't publish it! Because I like the way he sings it! He pronounces 'S' in a different way. Like you keep your tongue between your teeth and try to say 'S'. So, you can now imagine how he recites this poem! The first two lines are worth listening! hahaha.
Sad ending of a happy day!
Cheerio folks! ;)