On this weekend, we went to Sehwan Shareef. This city (its has now become a city...that's what I think) is famous for Lal Shahbaz Qalandar's tomb. It's my maternal grandfather's city! Love it!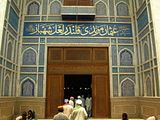 They say this tomb has a golden gate (i.e. it's made of Gold...wow) and a gold dome. (double wow)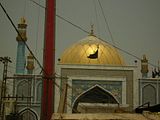 Here's the gold door.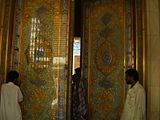 ....glittering
-----
Anyway, we started our journey on 22nd April, 2005 at 7 pm. We had to leave at 5 pm...but you know we are
'late lateefs
'. hehehe....We were almost 11-12 people, including bacha party! On our way, I broke my chappal! I don't know how it happened, cuz I'm sure, I wasn't playing football in the car! *wonders*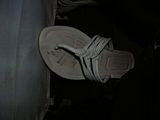 I don't know if you can see from where it broke...but my almost new slippers___*weeps*
-----
On our way, we were having a lot of trouble with our car. So we completed the 3-4 hours journey in complete 8 hours. Don't scream...just wonder how we are still alive! We reached the city at 3 am! It's just because of this!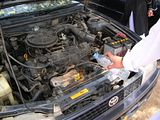 I invite all the expert minds to have a look at our car's engine and identify the problem!
------
I tried to take the picture of Toll Plaza, but failed (as always).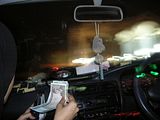 Just have a look at the currency notes in BiYA's hand. She's holding Rs.1015. And there are more inside the wallet. Riiich ladyyy! (BiYA and
Some Desi
, you remember that 'Rich Lady' wala scene, right? hahaha)
------
I was recieving calls and messages every now and then so....
...I found a place (handle) to hang it. We were at Askari Gas Station, filling the car's belly! And in the pic, you see 'CA'r wash! The clock was ticking 1 am at that time! Woohoo...
------
There we saw many amazing things. Things that still exist!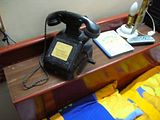 This is a picture of a telephone and guess what...it works! Although I have never dialled any number (there are no buttons even there) but I guess it is used as an intercom! (That's purely what I think.) There's a knob on the right. And when you move that knob, a number is dialled.
(The person who knows how to use this phone will beat me if he reads this)
----
"Ralko, weehan'ro, aien peengho"
[ reeli (sorry, can't define it), pillow, and jhoola]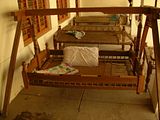 Now this is a very amazing thing. There are 2 of them over there. And so much fun when you sit in it and ...have lunch...sleep...or play!
-----
The colourful....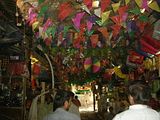 bazaar
-----
A she-goat! Look at her beady eyes!
When I was holding it, I felt something warm. 'O my God', I almost screamed. But, soon I found out, there was nothing wrong! 'Thank God', I sighed!
Waisay bhee aitebaar nahi kerna chahiyay aisi cheezoun per!
But she was shoo cute na...
----
There's also a peacock there. And when I went to see it, it never spread its wings out and danced.
(Ullu peacock!)
So, this picture is taken by ...oops, I don't know by whom!
Hai na ishmart peacock? [It's feet aren't that bad]
----
We had so much fun there. We played so many games over there. We'd eat pure butter. Enjoyed our stay! Then, on Sunday morning, 24th April, we started our journey back to Karachi! :(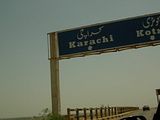 After a lot of concentration and effort, I finally succeeded in taking this picture! [ya ya I know my photography skills stink.] But I was hanging out of the window and taking photos. Errr.
-----
On our way, we saw such over-loaded trucks.
And what if.... well, you have no control over accidents!
----
And we also saw such trucks!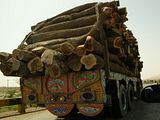 Aik chingari aur phir....
well, you have no control over accidents!
-----
Colgate Toothpaste!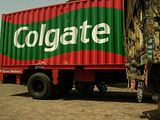 Are your reserves of Colgate toothpaste over? Then, what are you waiting for? Open the door of this truck and take as many as you can! Smile, giggle, laugh...as its Colgate toothpaste ( ka ad) =)
*my evil mind can't think beyond this* muhahaha
----
14
cars on...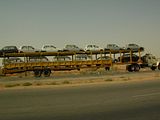 ...just
14
wheels!
----
My office, my kitchen, and my gaari ka armrest!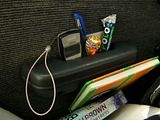 There you see my phone, a pen, a small notepad (you can't see it), one lolly pop, polo, and two books (that I didnt even read). There's something missing in here, and that is Panadol (my best friend in hard times) hahaha...I kept it after some time. Time:: 1:30 pm!
----
What should you do when you see such a signboard?
Violate the law!
-----
...As he has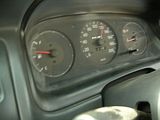 and we say yahooooooo.
The speedometer shows more than 120, or it is a parallex error?
-----
And what should you do when you come across a signboard like that? A signboard bearing a cow!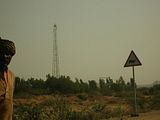 Just take a photograph of it, display it on your blog, and start wondering what it means!
------
How far is Karachi?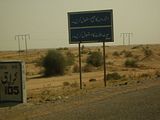 After, I don't remember how many endless efforts, I succeeded in taking this picture. *Phew*
-----
We saw this wonderful project!
and this is....
Thermal Power Station,
Mohra Jabal,
Jamshoro.
---
It was good watching the stretched, barren lands.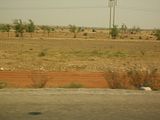 and the mountains...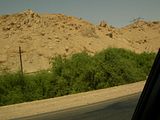 ahh...wonderful
----
A chameleon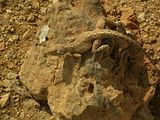 so neatly camouflaged!
-----
Yeh dhuwan sa kahan say uthta hay....?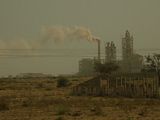 Dadabhoy mills, near Noori Abad!
-----
And then we finally reached Karachi in exact 8 hours. Started at 10 am and finished the memorable journey at 6 pm....just because of our car!
I have got so many other photgraphs...but I am too tired to post them now.
Havta go now.
Cheerio !
*snoring*